Prof. Dr. Michael Höckelmann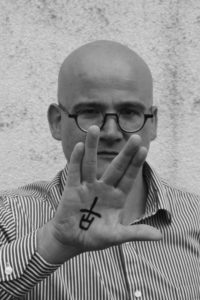 The character gǔ 古 (ancient, old) represents a concern that was at the heart of every intellectual endeavour in premodern China: to restore the golden age of antiquity (fùgǔ 復古). As a historian of medieval China (2nd–10th cent. CE) I am fascinated by how people of all ages of Chinese history perceived historical time, and how they appropriated and interpreted ancient institutions and ancient knowledge in their own present (jīn 今).
Das Schriftzeichen gǔ 古 (antik, alt) repräsentiert ein Anliegen, das im Zentrum aller geistigen Bemühungen im vormodernen China stand: das goldene Zeitalter der Antike wiederherzustellen (fùgǔ 復古). Als Historiker des mittelalterlichen China (2.–10. Jh. n.Chr.) fasziniert mich, wie Menschen in allen Epochen der chinesischen Geschichte geschichtliche Zeit wahrnahmen und wie sie antike Institutionen und antikes Wissen sich in ihrer eigenen Gegenwart (jīn 今) aneigneten und interpretierten.
Institut für Sprachen und Kulturen des Nahen Ostens und Ostasiens
Lehrstuhl für Sinologie mit dem Schwerpunkt Geistes- und Kulturgeschichte Chinas (Alexander von Humboldt-Professur)

Raum:
Raum 01.114
Artilleriestr. 70
91052 Erlangen
Sprechzeiten
:
Jede Woche Mi, 14:00 - 15:00, Raum 01.114, nach Anmeldung per Mail
Forschungsinteressen
Vormoderne chinesische Philologie, Geistes- und Institutionengeschichte, mittelalterliche Geschichte, Geschlechtergeschichte (Eunuchen)
Curriculum Vitae
Akademische Tätigkeit
2019–heute: Professor für Staat und Gesellschaft Chinas, Friedrich-Alexander-Universität Erlangen Nürnberg
2018–2019: Research Fellow in Chinese Intellectual and Cultural History, ERC-Projekt "PAIXUE: Classicising Learning in Medieval Imperial Systems: Cross-cultural Approaches to Byzantine Paideia and Tang/Song Xue", University of Edinburgh
2017–2018: Lecturer in East Asian History, History, University of Manchester
2015–2017: Assistant Professor, Department of History, Hong Kong Baptist University
2015–2017: Visiting Research Fellow, History, King's College London
2014–2015: Postdoctoral Teaching Associate, Faculty of Asian & Middle Eastern Studies, University of Cambridge
2013–2015: British Academy Postdoctoral Fellow, University of Cambridge (04.–08.2015) und King's College London (09.2013–03.2015)
2013.04–07: Stipendium des Schneider-Sasakawa Fund der Universität Münster für Forschung am Seikado Bunko 静嘉堂文庫 (Tokyo), Institute for Research in Humanities (Kyoto University) und in Taiwan
2009–2013: Wissenschaftlicher Mitarbeiter, Exzellenzcluster "Religion und Politik in den Kulturen der Vormoderne und Moderne", Westfälische Wilhelms-Universität Münster
2008–2013: Lehrbeauftragter, Institut für Sinologie und Ostasienkunde, Universität Münster
Studium
2013: Promotion (summa cum laude) zum Dr. phil. im Fach Sinologie, Titel der Arbeit: "Li Deyu (787–850). (Zivil-)Religion, Politik und Biographie", Universität Münster
2009: Magister Artium in Sinologie (Note 1,30), Politikwissenschaft und Allgemeine Sprachwissenschaft, Titel der Arbeit: "Gerechter Krieg und Strafen im Lüshi chunqiu"
2005–2007: Studium des Chinesischen (Mandarin) sowie chinesischer Philosophie und Religion an der Sun Yat-sen University 中山大學 in Guangzhou, VR China.
Publikationen
2020
2019
2017
2016
2015
2014
2013
2010
Öffentlichkeitsarbeit und Sonstiges
| | | |
| --- | --- | --- |
| 2015 | "The Eunuch". In: Melvyn Bragg – In Our Time. BBC Radio 4. (ausgestrahlt am 26. Februar 2015). | Online |
| 2015 | "Late Medieval Chinese State Religion, Tang through Five Dynasties (755–960): Religion Variables". In: Database of Religious History . Vancouver: University of British Columbia. | Online |
| 2014 | "The Battle of Talas". In: Melvyn Bragg – In Our Time. BBC Radio 4. (ausgestrahlt am 9. Oktober 2014). | Online |
| 2014 | "Den Stier bei den Hörnern packen – Gab es Sumō in der Tang-Zeit?". In: Jiawu Journal – Festgabe für Professor Reinhard Emmerich. (hausinterne Publikation) University of Muenster. S. 41–45. | |
| | Wissenschaftliche Buchrezensionen für Chinese Literature: Essays, Articles, Reviews (CLEAR); Frontiers of History in China, Journal of Asian Studies, Journal of the British Association for Chinese Studies, Journal of the Royal Asiatic Society, Journal of World History, Monumenta Serica, Reviews in History, Zeitschrift für Historische Forschung und Zeitschrift für Religionswissenschaft. | |
Projekte
Empire and Its Dysfunction: Classicising Learning and Careers in Middle Period China
Between 760 and 960, the breakdown of central authority in imperial China similarly led to a decentralisation of classical learning. Literati careers, which had largely depended on pedigree, became more diversified. While more and more sons of great-clan descent competed for the prestigious examination degrees, many faced difficulties in obtaining even their first office. Some resorted to signing up with the regional army headquarters (mufu 幕府); others entered marriage or adoptive relations with powerful non-literati. For many, personal aspiration was inextricably linked with hopes for a dynastic revival (zhongxing 中興). In that climate, literati (shi 士) sought for new ways of expressing ideas beyond the poetic genres that dominated the examinations. One product of that desire was Ancient Style (guwen 古文) prose, the exposition (lun 論) another. Unsurprisingly, the great stylists of the era – Han Yu 韓愈 (768–824), Liu Zongyuan 柳宗元 (773–850), Li Deyu 李德裕 (787–850) – wrote some of their best pieces while being away from court. What role did the court play for them? Was it still the centre of public life and main source of cultural and social capital? Or a snake pit full of factions and eunuchs, better to be avoided? What role did subaltern officials outside the pure stream or "literocracy" (qingliu 清流), i.e., in the professional services and the military, play in the evolution of institutions and learning? This book will look at the career paths of middling officials and their writings, and map them onto some of the new institutions that were created during the period – the regional army headquarters, the Hanlin Academy (hanlin yuan 翰林院), and the Palace Secretariat (shumi yuan 樞密院). All of them survived the fall of the dynasty and into the Song; all of them impacted on the evolution of learning in Middle Period China, directly or indirectly.